Designer Sunglasses are incredibly cool; it's OK, you can admit it. There are thousands of different styles of sunglasses out there. In fact you should be able to find one to shoot all fashion styles and face shapes. So let's take a look at the most popular styles of sunglasses and give a brief description of each, this way you should be able to work out what these best type of glasses are for you. Of course there are plenty of other types of sunglasses out there; we suggest taking a look to see what the best style is for you.
Aviator Sunglasses
The Aviator is possibly one of the most popular and well known types of sunglasses out there, although it isn't to everybody's tastes. These, as the name suggests, were originally developed for use by Aviators. They were launched in 1936 by Bausch & Lomb. In the 1960's they quickly evolved to become a popular fashion statement amongst men. The most common type of Aviator nowadays is the Ray-Ban Aviator, although there are plenty of cheaper models out there. The best type of lens in my opinion on the Aviator Sunglasses is the mirrored lens, although it is available in all lens types. Some people do prefer the colored lens style.
Teashades

Think of John Lennon, apart from associating him with the Beatles and music what is the first thing that pops to your mind? It's most likely his glasses. In fact due to his love of these type of glasses you can now find them commonly known as John Lennon Glasses. They do not offer much protection from the sun, and are generally only worn for fashion statements. Their popularity amongst rock artists such as Ozzy Osbourne has made these glasses incredibly cool to wear.
Wayfarer
These types of glasses were originally manufactured by Ray-Ban, however you can find plenty of imitations out there nowadays. The glasses are characterized by a plastic frame as opposed to the metal frame which most other types of glasses have. The Wayfarer has had its ups and downs in terms of use as a fashion accessory, more so than any other type of glass out there. There have been several redesigns as a result of this, the wayfarer is currently enjoying a sort of resurgence in popular culture with famous musicians such as Katy Perry choosing to don this as their accessory of choice.
Wrap-Around Sunglasses
These type of sunglasses don't just cover your eyes, in fact they are designed in such a way to cover a lot of the area surrounding your eyes as well. Aviators are a sort of wrap-around type of sunglasses.
Flip-Up Sunglasses
These types of sunglasses are made especially for those that need to wear corrective eye wear. As the name suggests these shades have a section that flips into place in order to keep UV light out, and therefore protect your eyes.
As you can see, there is plenty of different styles to choose from. Trust me however, you will find one that will suit your style; it may take a while however. The best tip that we can offer is to keep trying sunglasses on. Eventually you will find one that will make you look cooler than ever before.
So you have visited the optician and discovered that your child needs to have eyeglasses to improve their vision. Kids Glasses do not come cheap and therefore you want choose the right pair first time in order to minimize any future costs. Your optician should be able to help you choose the right type of glasses for your child, but you can use this article to become a bit more informed in the process of purchasing sunglasses for them.
Your optician will first decide what type of vision impairment that your child has. They can either be near-sighted or far-sighted. This will dictate exactly when your child needs to be wearing glasses. Some may only need for reading, whilst others will have to wear them permanently. The next thing that your optician will inform you of is the strength of lens that is required, generally the poorer the eyesight, the stronger the lens. Stronger lenses are thick, and therefore will need a thinner frame in order to balance it out. Your glasses salesmen should be able to help with this.
The next stage is choosing the frames of your glasses. I really do suggest getting your child involved in this process. Your child will be the one wearing the glasses, and it is generally a big change for them. Allow them to choose something that they would be comfortable in wearing. Do set limits however, give them a budget to work with. I feel that this is the most important stage, a lot of children get bullied at school when they wear glasses and the child needs to feel as comfortable as possible in their glasses to stop them giving up. As mentioned before, if you have thicker lenses then I suggest going for thinner frames.
At the same point as choosing the frames you will need to work out whether you need plastic or metal frames. Generally plastic frames are better for a child as they are much more durable, and also cheaper to replace. You may be able to find some metal glasses with the same properties however, so take a look at those.
The next stage is making sure the glasses fit your child. Children's glasses are specially made to stop the glasses sliding down your children's nose, as the bridge hasn't been fully developed yet. The only way to do this is by getting your child to try on the glasses and seeing whether they are a good fit or not.
One key tip I can give is do not get a children's glasses which use a glass lens, these are prone to shattering and can seriously damage your children's eyes if this happens. I suggest finding ones that are made of polycarbonate, they are very difficult to break and can also protect against UV rays, therefore doubling as sunglasses in some situations.
If you choose your Kids Eyeglasses correctly not only will you be saving yourself money in the long run, but you will also be helping your child feel much more comfortable in their glasses. It really isn't easy having to adapt to wearing glasses and every little you can do to make this change easier will help, following the tips outlined above will be the best way to do this.
Irvin Max Borish, OD, who was widely acknowledged as the father of modern optometry, passed away at the age of 99 years old in Boca Raton after a brief illness this past March.
Dr. Borish made numerous contributions to optometry, including contact lens developments, leadership in the development of the profession, and authorship of the leading optometry book for decades, "Clinical Refraction," according to the Indiana University School of Optometry.
Dr. Borish's contributions to optometry are legendary. He advanced the areas of refraction, contact lenses, practice management and professional ethics. He lectured nationally and internationally to packed lecture rooms. He was recognized through prestigious awards including the 1968 AOA Apollo Award, an honorary degree from IU in 1968, the 1985 William Feinbloom Award from the AAO, the 1987 Max Schapero Award from the AAO's section on Cornea and Contact Lenses, the 1989 Distinguished Service Award from the AOA, and the 2002 Eminent Service Award from the AAO. In 1996, the World Council of Optometry named Dr. Borish the Optometrist of the Year, and in 1998 he was the first inductee to the National Optometry Hall of Fame. In its 1999 issue welcoming the next century, Review of Optometry announced that its readers had selected Dr. Borish as the "the most influential optometrist of our time" and the "OD of the Century." The Herman B. Wells Visionary Award, given to individuals whose vision and entrepreneurial spirit have brought them to an extraordinary level of achievement in their professional endeavors and in their service to humanity, was awarded to Dr. Borish in 2002 for his creativity, perseverance and intrepid spirit. This award was very special to Dr. Borish because it carried the name of the beloved IU president with whom Dr. Borish worked to establish the School of Optometry at IU.
Borish's last lecture to IU optometry students was delivered in the fall of 2008. A year later, he judged his last Optometry Student Bowl and attended his last AAO meeting in Orlando. He delivered his last commencement address at the University of Houston, College of Optometry in 2010, at age 97.
According to the Indiana Optometric Association, Dr. Borish opened a practice in Kokomo, Indiana, in 1944 and was on the initial committee that founded the Indiana University School of Optometry in 1953. He served as a part-time faculty member of the school from 1953 until he turned over his practice to younger associates in 1972 and became a full-time professor of optometry. He served as the director of patient care and taught courses in clinical procedures and contact lenses until his retirement in 1982. He then taught at the University of Houston from 1982 until 1987.
Dr. Borish authored over 85 articles and nine textbooks during his career as an optometric educator. He lectured in over 45 countries and served as a visiting faculty member at almost every U.S. and Canadian school of optometry. He was also an inventor, holding five patents in the contact lens field.
Dr. Borish is survived by his daughter, Fran Goldman, of Dallas, Pa., granddaughter Beth Roman and great-grandchildren Jacob and Max Roman of Houston, Texas and Ruth Helgemo and greatgrandchildren Ryan, Eric and Sara Helgemo of Mortonville Grove, Ill. He was preceded in death by his wife Beatrice, his brother Harold Borish and his sister Elsie Goldstein.
Established in 1975 and headquartered in Southern California, Oakley is one of the leading sports sunglasses in the world. The global branding campaign kicked off last week with a party at the Oakley SoHo store to celebrate collaborations between artists and the Olympic athletes who inspired them. The evening's event at the Oakley SoHo store featured 2008 Olympic gold medalist decathlete Bryan Clay and prominent artist Natalie Frank premiering a specially-commissioned BEYOND REASON art piece to showcase creatively how elite athletes approach their performance through a distinct, personal lens.
During the 100 days leading up to the 2012 Olympic Games in London, Oakley will partner its international family of athletes with artists to launch Beyond Reason. In addition to Clay and Natalie's partnership, other Olympians participating in the Beyond Reason campaign include U.S. sprinter Lolo Jones, U.S. beach volleyball player Kerri Walsh, British cyclist Mark Cavendish, South African sprinter Oscar Pistorius, Australian cyclist Cadel Evans and Spanish triathlete Javier Gomez.
BEYOND REASON exemplifies the driving attitude that fuels and fires Oakley athletes to exceed the limits of possibility. "The Beyond Reason mentality is what drives, inspires and fuels me to push myself every minute of every day to perform at the highest levels," said Clay. "Working with Oakley and Natalie on this Beyond Reason art gave me an outlet to showcase my mental approach to performance and how I view challenges—not as barriers, but as boundaries that can and will be pushed."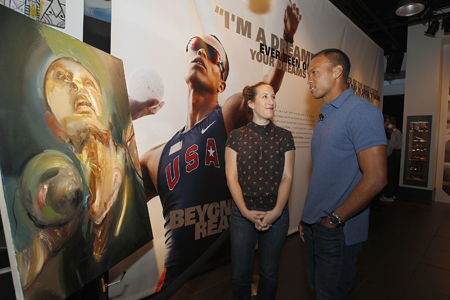 As part of the lead-up to the BEYOND REASON unveiling, Clay and Frank spent time discussing passion points and motivations that fuel Clay's iconic performances. Frank's 'Portrait (Shot Put)' represents Clay's embodiment of the surreal, defiant and continual transformation of consciousness needed to become the greatest athlete in the world. In addition to the Bryan Clay / Natalie Frank collaboration, Oakley will unveil an artistic collaboration between Lolo Jones and Sarah Olson. The creation is titled, 'Run Lolo Run.'
Throughout spring 2012, Oakley will continue to partner its athletes with artists around the world. The art pieces inspired by each athlete's Beyond Reason vision will be displayed at the London Design Museum on July 26, 2012, the night before the opening Olympic ceremonies, for a special gala to celebrate Beyond Reason and the Oakley athletes competing in the 2012 Olympics. In addition to the Clay/Frank collaboration, Oakley will unveil an artistic collaboration between Lolo Jones and Sarah Olson.
Alongside the launch of the brand's Beyond Reason campaign, Oakley will debut RadarLock, a performance sunglass designed to deliver comfort, performance and protection for athletes at any level. Switchlock Technology featured in RadarLock allows athletes to change lenses quickly and easily, enabling them to match their vision to the environment.
While eyeglasses are a necessity for many, the designer eyewear industry is based primary on want versus need. And with the help of flash sales and members-only sites such as Gilt and HauteLook, and online retailers such as Eyeglasses.com, the average consumer can now afford to purchase designer goods at a tremendous savings. We are also finding that the luxury sales sector is increasing rapidly with Generation Y leading the charge in all fashion categories, including premium luxury and full-priced online luxury retail.
Generation Y increased premium luxury fashion by 33 percent in 2011 over 2010. Though it represents the smallest group of luxury consumers, this group of twenty-somethings has also led the charge of full-priced online luxury retail, spending 31 percent more on designer duds than the year before. They have also shown and increase in spending among all groups in specific retail categories, such as jewelry, shelling out 27 percent more in 2011.
While the financial standpoint on designer eyewear will vary among working youngsters, many limit their eyewear purchases to a minimum. Those with insurance typically have one pair of glasses with little to no extras and keep an old pair for backup. One popular trend is to layer contact lenses and oversized sunglasses. For eyeglasses, the trend is something along the lines of a Clark Kent horned rim eyeglass frame or retro (read: ironic), possibly vintage eyeglasses.
"Most [generation Y-ers] are unaware of differences in lens types and just go with whatever lenses their optometrist's office recommends," says Kate Baker, 29, at Moneywise Payroll in Charlottesville, Va. "Most have to pay extra for anti-glare and scratch-resistance, if they can afford it; optical insurance isn't that common."
In terms of specialty glasses, the young members of Generation Y are often unaware of their existence or usefulness. While few of the students are interested in spending additional cash on special glasses, an explanation of why they are special or what they do help move them toward buying.
These tech-savvy shoppers take to the Internet to research eyewear options and compare prices. In fact, females in their 20s often window shop in person to examine the product firsthand but search online for a better deal. But this is not the only advantage online shopping provides: Many Gen-Y-ers relay convenience as web's biggest advantage to brick and mortar retail. This added convenience has only made it that much easier for them to spend on luxury items they may not have had access to before.
Ray-Ban is by far one of the largest sunglasses manufacturers in the world. They could not grow this big through luck alone. Ever since their inception in 1937 as Bausch & Lomb this company has remained one of the most innovative glasses companies in the world and the majority of other designers have incorporated Ray-Ban ideals into their own designs. In this article, we will go over the history of Ray-Ban glasses as well as highlighting some of the most popular Ray-Ban Sunglasses that are out there.

The history of Ray-Ban can be put down to an American Test Pilot called John A. Mcready. His eyes became damaged during a hot air balloon flight; he then contacted Bausch & Lomb to see if they could come up with a solution. On May 7th 1937 the Aviators were officially launched upon the world. They seemed to solve John's problems as they were quickly adopted by many pilots and military personal out there. Demand for the Aviator catapulted during World War 2 when a series of iconic photos were taken of the action where American military personal sported them.
In 1952 the next glasses type in the Ray-Ban Legacy was launched, the Ray-Ban Wayfarer. It doesn't quite hold the iconic status of the Aviators they are still incredible pairs of sunglasses. In fact, these types of sunglasses really show just how innovative Ray-Ban is as a company. These were the first type of plastic-framed glasses, which of course become a major part of their style. Popularity for this type of glass boomed during the 1950's and 1960's but it took a bit of a back burner before making a comeback in the late 2000's. During this time they have gone through several redesigns. Ray-Ban have also launched various styles of sunglasses based on this design, popular ones include the Myth and Meteor.
Outside of the frames Ray-Ban has really been innovative in terms of the development of lenses. In fact they were making impact-resistant glasses over 10 years before it became the law that all glasses had to have them.
They were involved in the development of 'Advanced Polycarbonate Lenses', these lenses are a lot lighter than other types of polycarbonate lens, which enables sunglasses manufacturers to get a bit more crazy in their designs. They also are very resistant to cracking due to the manufacturing processes that they have to go through.
Ray-Ban is a pioneer in the use of Photochromic Lenses. This type of lens darkens when exposed to more light. Therefore they become clear during interior use and darken when used outside. These are therefore a common type of lens to use in prescription glasses. It would minimize the need to change glasses when you wish to protect your eyes from UV light. B-15 XLT Lenses are brownish in color. Only 15% of light will get through these sunglasses. The reduction in blue light that can get through the lens makes these lenses offer more contrast.
If you are after softer colors then many people opt to purchases sunglasses which make use of G-15 XLT Lenses. Things that are viewed through these types of lenses appear much more natural looking.
Polarized Lenses are a favored type of lens amongst those that carry out outdoor activities. This is due to their ability to block reflective light, in fact many fishermen rely on these so that their eyes do not become damaged. As you can see the history of Ray-Ban is incredibly long and fruitful. It is easy to see how Ray-Ban has become one of the largest manufacturers in the world. The company is constantly innovating, and I for one cannot wait to lay my eyes on their next design. Maybe this will be the one that changes history the way the Aviator or Wayfarer did.
RayBan's philosophy of 'Never Hide' was in full swing for the 2012 collection. With three notable updated takes on the classic Wayfarer eyeglasses, RayBan springs into high gear with their latest designer sunglasses.
RayBan Sunglasses unleashed the loud and proud Rare Prints series of Wayfarer sunglasses. There is definitely no hiding in these eyeglass frames! This very special collection combines colorful new patterns with the classic Wayfarer aesthetic. The frames in this limited edition printed series are considered collector's items, so a pair while you can.
Anyone who has ever tried on a pair of Ray-Ban sunglasses will have fond memories of the classic Wayfarer. RayBan RB2151 Sunglasses. Available in tortoise or the infamous black frame color, the RB2151 is proof once again that the Wayfarer never goes out of style. Whether dressed up with a mens suit or dressed down with jeans and sneakers, this frame was truly made for everyday wear and all occasions. Following the same benchmarks of quality and comfort, the RayBan RB2151 provides the craftsmanship you've come to expect from the brand with the same classic look that you remember.
The classic Wayfarer design gets a modern twist with this limited edition folding eyeglass frame. This incarnation of the classic RayBan Wayfarer folds up into a compact shape perfect for front shirt pockets or small clutch purses. The Ray Ban Folding Wayfarer also comes with a leather carry case to prevent scratches and smudges on the lenses. Available in brown, black, tortoise, and variations on each, the folding Wayfarer is the next step in the evolution of this classic eyeglass frame.
It's hard to imagine that a company specializing in aviator sunglasses for aircraft pilots could turn out a sunglass frame as colorful and audacious as the sunglasses found in the Rare Prints collection. But it's exactly this brand of tenacity and reinvention that has kept Ray Ban relevant for over 70 years. Along with the aviator sunglasses, the Wayfarer continues to be the most popular eyeglass frame for Ray Ban year after year. The iconic frame continues to not only make an appearance every season, but contribute to each new eyewear collection put out by the designer giant.
Ray Bans are well-known for appearing on famous faces throughout history. Whether it be Tom Cruise in Risky Business and Top Gun, or General McArthur during World War II, the Ray Ban reputation definitely precedes itself. This reputation for style and quality easily transforms into the current line of prescription eyewear. Whichever pair of eyeglasses you choose, as long as they are authentic Ray Bans, you will not be disappointed. Just ensure that you order from an authorized reseller and you will be more than satisfied with your piece of history.
Prescription sunglasses are important for everyday use. Not only do these sunglasses block out sun glare when walking or driving, sunglass lenses also protect your eyes from UV rays. Whether you decide to purchase designer sunglasses or eyeglasses with Transitions lenses, any type of sun protection will prove beneficial.
Having a eyeglass prescription no longer equals a limited range of sunglass frames. There are many different types of sunglass frames available for use with your prescription including polarized sunglasses, designer and vintage sunglasses. Sport specific sunglasses are also available for fishing, golfing, boating, and driving. You can also find these sunglasses in children's sizes since their eyes need to be protected as well.
When determining the type of sunglasses that would like to purchase, you need to ask yourself for what purpose they are going to be used for. Do you only want them for the style that they give, the function of protecting your eyes, or the simple fact that you just feel comfortable not allowing people to see your eyes?
There are many different types of lenses available for your prescription sunglasses. For anyone interested in a light shade from the sun may want to choose a light gray gradient polycarbonate lens. These lenses help to shade the eyes but yet others to be able to see the person's eyes. You will find that there are different grades of darkness that can be applied to your sunglasses. You might also consider the type of material that your frames will be made of. Active people who are on the go constantly or may have jobs that are very physical, may want to purchase frames that are lightweight and more flexible such as the Gucci 2908/S Sunglasses. You can choose from plastic or metal types of materials.
You also have to think about the actual shape of the frame when it pertains to your glasses. You can find several different websites on the Internet that will take into consideration the shape of your face and actually tell you what shape of frame would best compliment your look. The many shapes that are available include oval, round, rectangular, cat eye, and aviator. You can also decide on exactly how much frame you want to cover the glasses. You can choose from a full frame, half frame, or a rimless frame which is becoming very popular.
The most important factor about purchasing any eyewear whether they are prescription sunglasses or everyday eyeglasses is the way they fit and how you feel in them. Consider you next pair of glasses as an investment since you will wear them on a daily basis. Make sure that you find a frame that feels good and will stand up to your lifestyle. Regardless of how expensive a pair of glasses is, if you are not comfortable in them or they do not frame your face the way you had hoped, you will know right away these glasses are not for you. Once you find a quality sunglass frame that looks and feels good to you, be sure to have prescription lenses put in. It is definitely money well spent.
In part 1, we discussed the first two ways to improve and maintain your overall eye health. First we discussed the impact of environmental factors on the eyes such as florescent lighting and airborne allergens. Some environmental influences were unavoidable such as UV rays, others such as cigarettes were self imposed. We provided tips to reduce the impact of these factors on your eyes. We also discussed the importance of getting enough sleep at night and getting rest throughout the day. Simply closing your eyes and putting your head back for three minutes a few times a day will alleviate eye stress and give you eyes some well needed relief. Now on to the third tip for improving eye health:
Tip #3- Exercise those eyes!
There are very simple exercises that will enable you to maintain optimal eye health. These straightforward exercises should be done first thing in the morning, before bedtime, or any time your eyes feel fatigued. Commit to daily practice and you may just see better results within one month.
Begin by making sure that your hands are clean. Then do your best to relax your face and body muscles. Warm your eyes by rubbing your palms together to create heat, then place them against your eyes for five seconds, and repeat this three times.
Eye rolls are another good ocular workout. Start by looking straight up, then slowly circle your eyes ten times clockwise and ten times counterclockwise. Practice your focusing skills by holding a pen at arm's length, focusing your eyes on it, and slowly bring the pen closer until it's about six inches away from your nose. Then slowly move it back, keeping your eyes focused on the pen at all times. Do this ten times in a row and practice once or twice a day.
Even massaging your temples can be good for the eyes by relaxing facial muscles to relieve stress. Use your thumbs to massage your temples in small circles, 20 times clockwise, 20 counterclockwise. Repeat this motion above the mid-point of the eyebrows at the forehead, then below the eyes on both sides of the bridge of the nose.
Protecting your eyes from the environment, exercising and resting your eyes (and relaxing your body) are definitely healthy habits worth maintaining for optimal eye health and your overall well-being. And don't forget to check in with your eye doctor regularly to track your progress.
Eye health deterioration occurs for several reasons. The most obvious cause of eye health decline is aging. Aging is natural and unavoidable. Stress and strain from computer monitors is increasingly common in today's society. Working on a computer all day causes unnatural eye movements that make your eyes feel dry, exhausted, and can even cause headaches. So as we get older and our eyes naturally become weaker, environmental factors and our own bad habits contribute to our ever worsening eyesight.
And while poor eyesight is inevitable with old age, there are three tips that you can follow to stave off decline, sharpen your vision, and improve your overall eye health.
Tip #1- Reduce environmental influences
There are many environmental factors that can contribute to the decline of your eyesight. Fluorescent lights, computer monitors, allergens in the air, chlorine in swimming pools, heating and air conditioning, and other factors that lead to constant eye rubbing or eye strain encourage deterioration. Even cigarettes and exposure to cigarette smoke can increase optic pressure which puts you at risk for glaucoma and other optic malignancies.
Do your best to limit exposure to these elements by wearing sunglasses to protect your eyes from ultraviolet rays, use lubricating eye drops when your eyes feel dry due to allergens or cigarette smoke, use proper lighting when reading and performing tasks, and give your eyes an occasional break from the computer screen.
Tip #2- Rest and relaxation are required
Besides getting enough sleep at night, resting your eyes throughout the day is also imperative for healthy eyes. Providing your body with proper rest not only relaxes your muscles, it also helps to boost your immune system which can help keep you healthier. When your body is not given the proper time during sleep to rest and repair, your immune system is compromised, body weakened, and stress levels are heightened- all of which contribute to weakened vision.
The numbers of hours needed for a good night sleep differs from person to person so just be sure to sleep soundly at night. Also, give your eyes a break throughout your workday; especially if you write or work in front of a computer all day. A good rule to follow is to rest your eyes 10 minutes for every 50 minutes spent reading or in front of the computer. If you are at work, put your head back, close your eyes, and relax for three minutes. If you are at home and feeling overly tired, lie down and lay something light and cool over your eyelids. This could be anything from a cool hand towel to cucumber slices.
Take time and find ways to incorporate the first two tips into your daily routine. Next up in part 2, you will learn the third way to improve and maintain your eye health.