Posts Tagged 'children's eyewear'
From the creation of the first animated movie, Toy Story, children have always identified themselves with the characters from films and with the stories behind them. Movie creators have noticed that when a film is produced, many industries need to be integrated in order to provide items that satisfy the needs of children. All sorts of products enter the market, even before the movies are out. For many companies, licensing to produce films´ items has become very important, but producing the right product with proper quality is much more important. This is the case of the eyewear industry, which has many industries producing licensed products with the best possible quality. In particular, Revolution Eyewear and LBI Eyewear have produce animated films´ licensed frames, which have become very popular.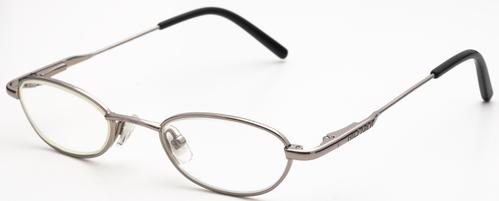 Revolution Eyewear presents its Toy Story Eyewear collection. This collection is based on the first well known animated film Toy Story. Each frame portrays different aspects of the characters of the film, including colors and icons. The designs are targeted to a cross-generational market, catering children from 2 to 11 years old. Shapes are diverse and include ovals, rectangles, squares and round in zyl and metal. Character embellishments and colorful patterns add personality to the temples. Similarly, LBI eyewear launches the Shrek Eyewear collection under a licensing agreement with Dreamworks Animation. As the collection´s name indicates, every frame is inspired on the famous Shrek saga. The frames feature well-fitting, comfortable, high-quality and durable ophthalmic frames based on Shrek and friends. Materials include memory metals and plastic.
Youth can be defined in many ways - complex, dynamic and versatile are only a few of the ways. These many adjectives is one of the reasons the eyewear industry has a very strong challenge addressing this market. In fact, it is often a difficult experience for young people to begin using eyeglasses because of the connotations that eyeglasses have. Despite this, certain brands have managed to target users from ages ranging from 17 to 25, and they have been able to provide quality products that relate to the needs of youngsters. Brands like Wescan Optical and Optimate have met the challenge and are constantly bringing items that can provide confidence and ophthalmic performance to young users.
As an example, recently optimate launched its NBA collection thinking of teens and young adults. Giving tribute to the Collection´s name, The NBA ophthalmic option features versatile and energetic styles in shades of pink, purple and light blue. The range of colors also offers variety, including options such as gold, gray, silver and black. Each frame can come in materials like zyl, metal and metal/zyl combinations. The NBA collection consists of 18 frame designs: divided into five men´s, six women´s and seven unisex. Overall the collection offers young users casual and alternative options. Additionally, Wescan Optical offers its Fysh UK urban eyewear collection. This version is inspired in the colors and spirit of the sea. The collection provides a vast range of colors and upscale designs for younger women looking for two-tone color mixes which focus on style and elegance. Fysh UK is a collection featuring modernity and sophistication translated into wearable fashions.
Successful children's eyewear makers are able to provide comfort and to allow children the luxury of durable products. This is a benefit because it ensures the continuity of their optical treatments. In this post we will consider Jonathan Cate Eyewear, and how this children's eyewear maker has managed to produce children's eyewear through a variety of models. Additionally, we will look at the case of Modo: Eco-Kids and how these sunglasses intend to become the next generation´s choice.

Katykids is a children´s eyewear collection introduced by Jonathan Cate Eyewear. This is a vast collection line, which offers 12 plastic and 24 metal ophthalmic frames: 12 unisex, 12 boys´ and 12 girls´ styles. Jonathan Cate Eyewear presents on this line 4 Rxable sunglasses, and boys and girls have two models each, which they can enjoy in polarized or non-polarized options. Interestingly enough, each style of eyeglasses comes particularly designed to match and represent the characters of the children´s book The Adventures of Jimbob Jackfoot. This book is a Jonathan Cate Eyewear´s creation, and with it Jonathan Cate Eyewear intends to present a program for children centered on the main characters of this book. Each style of eyeglasses comes in at least 2 different colors. Modo Eyewear also offers different options for children, combining practical functional features with today´s fashion trends. The eco-Kids line from Modo Eyewear is a unique line of ophthalmic eyeglasses for boys and girls between the ages of 8 and 12. This line comes with 11 different styles, which are also non toxic and hypoallergenic. But perhaps the most attractive feature of this collection is its commitment with the environment. An UL Environmental Validation ensures consumers that the products are made of at least 95% recycled materials. Children have the possibility of following the trend of environmental awareness, while following ophthalmic procedures.
Here is an upcoming designer eyeglasses line that has already gathered a following from the stars. The line is from Alexander Daas, who is seen as a rising star in the eyewear world. Despite the company's humble beginnings, already celebrities such as Jenny McCarthy and Sammy Hagar have been seen wearing the eyewear. The background of the eyewear company is fascinating. The breakout line Alexander Daas was conceived by optician and eyewear stylist Alex Feldman. With a decade of hands-on experience, Feldman found himself frequently altering frames to craft a superior look and fit for his clients. All of those changes led to the birth of the line.

Drawing on his years of experience in the optical industry, Feldman focuses his designs on aesthetically pleasing functionality that combines effortless chic and glamour. Each frame showcases the company's signature hinge, which is an elegant double-grooved bar. The decorative of the eyewear chain, which features a signature pendant on which the eyewear can be suspended. Simple hexagonal cutouts at the temple tips reference the company's signature style but also serve as a connection for attaching the chain. The collection encompasses a range of sizing options to accommodate smaller PDs. Lastly, one of the things we like about this line is that Alexander Daas will be donating three percent of sales from its retail partners to a charity of the company's choice in the company's name. This is always great to see. We hope you've enjoy this article on this upcoming eyewear line.