Glasses So Powerful They Make The Blind See
India has the largest population of the world's blind, with over 55 million visually impaired and 8 million totally blind. Fortunately, nearly 80% of them can easily be cured if they can simply receive treatment. Each purchase of Pi Wear glasses funds the surgery to restore one person's sight. To learn more or make an additional donation, visit
Sankara Eye Foundation
Detrimental Impact On Wage Earners
Chitra, 42, suffered from cataracts in both eyes. She only noticed that her vision was deteriorating when she couldn't read the numbers on the bus. Being a wage earner, it affected her lifestyle and she wasn't able to do the daily chores in the house. She learned of the free eye camp conducted by Sankara Eye Foundation and attended it. At the camp, she was diagnosed with cataract and transported to the base hospital for treatment. Chitra is now back in the fields taking care of the banana and vegetable cultivation. Sankara's efforts contribute directly to poverty reduction by reversing decreased productivity and social isolation that people experience when they lose their sight.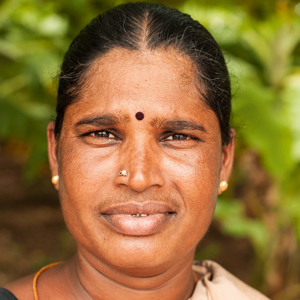 COMMUNITY OUTREACH IS KEY
Gyarsi Devi, a resident of Neem Ka Thana near Jaipur has had a tough life since she was young. Her husband had a heart attack before his 30th birthday and passed away, leaving her all alone. She ended up taking care of her brother-in-law's children and also worked in the farmland to fulfill her daily needs. Then she started to lose her vision. Living on meagre pension, she couldn't afford any treatment; life became miserable for her and she had to rely on others to help her out.
Luckily for her, Sankara Eye Hospital in Jaipur organized a "Gift of Vision" community outreach camp in Neem Ka Thana area. The local co-sponsors and field workers covered all villages in the area and Gyarsi Devi was identified as one such individual needing help with her vision. Nonetheless, she initially refused to be examined. After the field workers gave her more information about the free treatment available to her, she agreed to be checked at the Sankara eye camp. There, she was diagnosed with mature cataract in both eyes and was recommended that she be transferred to the base hospital for treatment.
Along with other villagers, she was taken to the Jaipur Hospital where she successfully underwent cataract surgery and her vision was restored. Today, Gyarsi Devi is very grateful to the Sankara doctors and staff for giving her vision for free and helping her get her independence back so she can manage her normal household chores on her own.
A New Lease On Life At 72.
Ramaswamy is 72 years old and suffered immensely due to cataracts in both his eyes. He could not see beyond a few feet and found great difficulty in doing his basic chores. He could no longer ride a bicycle and he had given up any hope of getting his vision back at this age for lack of money and distance to the hospital. Through local announcements he got to know of the free eye camp conducted by Sankara Eye Hospital. At the camp, he was diagnosed with cataracts and recommended for a surgery. He was taken to the hospital by the Sankara bus and doctors performed the eye surgery. His life has now completely changed, as he is no longer dependent on his friends and family members to support him.